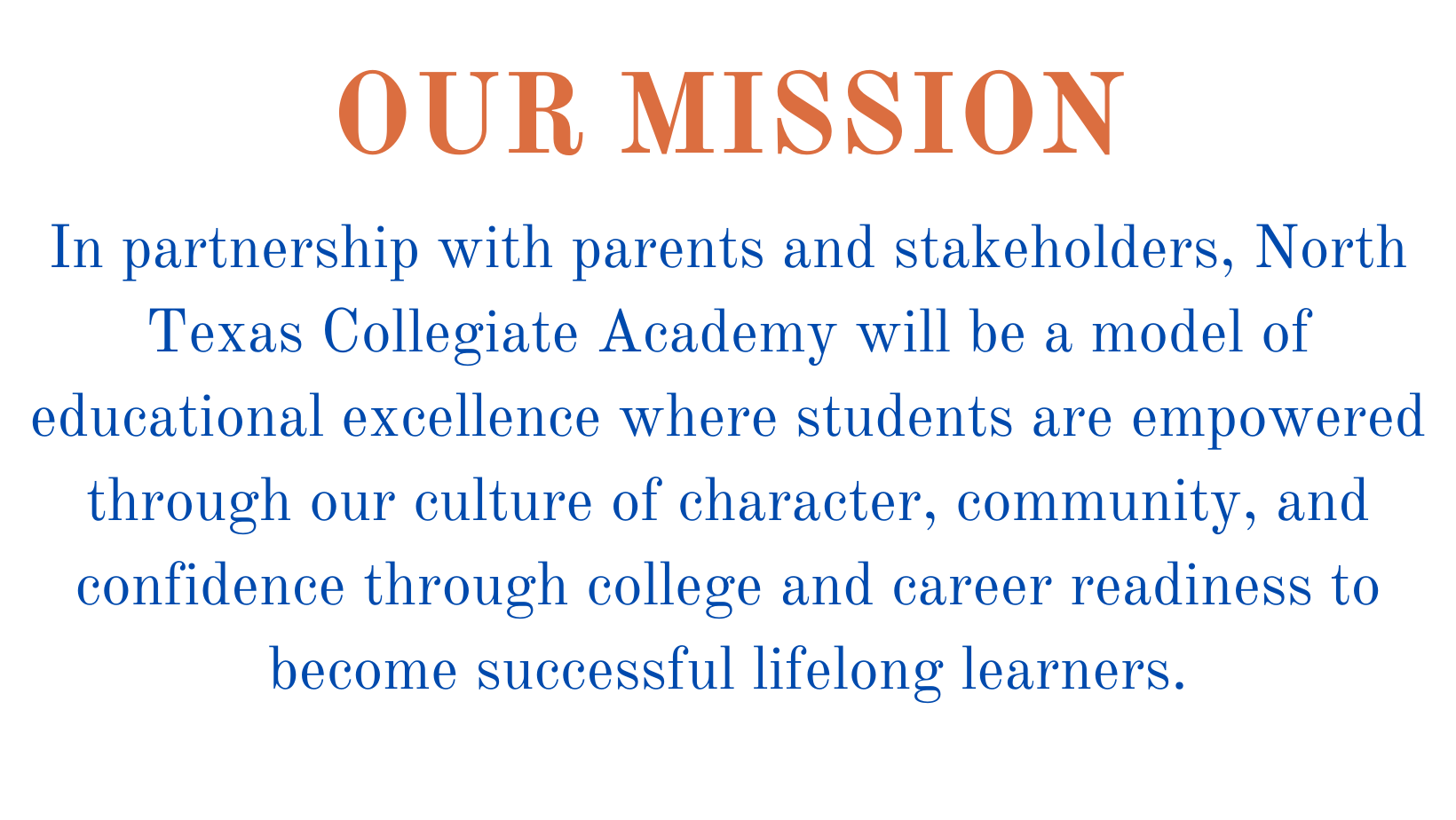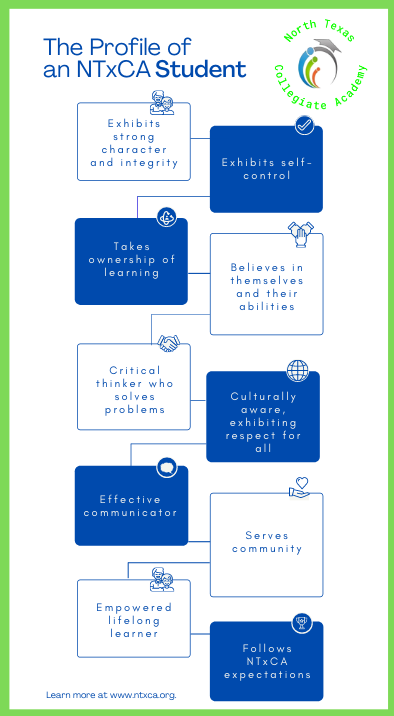 Our Program
Our curriculum, designed around Texas Essential Knowledge and Skills as well as the "College and Career Readiness Standards" for Texas, is a blended approach in which project-based learning is partnered with technology and small-group instruction. In grades Pre-K through 4, we have media centers that each class can visit daily to incorporate technology into their foundation subjects. Grades 5-8 are 1-to-1, meaning every student is issued a device and the Google Classroom platform is implemented across the curriculum.
One interesting feature about our schools is that we do not assign homework. We strongly believe that if each minute of the instructional day is used appropriately, then homework is not necessary. We know that our families are busy and our students deserve time to just play and be kids in the evenings. We adopted this policy 4 years ago and our state assessment scores have increased every year since!
Our middle school STEM program includes participation in competitive eSports. This is not required for all students, but these classes are very popular electives in grades 5-8.
Grades 1-4 have rotating clubs throughout the year in which students participate in a wide variety of activities from creative writing to art and music.
Character education is a huge part of the NTxCA program. Every class, every day, in every grade level starts the school day with a character trait lesson focusing on our district character trait of the week. Without character, academic knowledge is of little benefit. We know that instilling values and ethics in our students, coupled with our strong academic program, equips them for life long success.
Our character education program has 4 primary goals:
(1) to promote and model use of respectful language,
(2) to build relationships of acceptance and respect for diversity,
(3) to manage student behavior, and
(4) to encourage perseverance, consistency, and integrity in our attitudes and actions.
We provide an academically rigorous college-preparatory curriculum to ensure that our students are prepared for success in high school and college. Our students are accountable for the same high-stakes assessments as any other public school in Texas. The difference is that we do not focus on those tests. We believe that if every day of instruction is rigorous, well-planned, and relevant, the our students will perform above the standard on state tests. We allow these tests to show how well our students have mastered the standards for each grade level and subject area.
Social and Emotional Learning at North Texas Collegiate Academy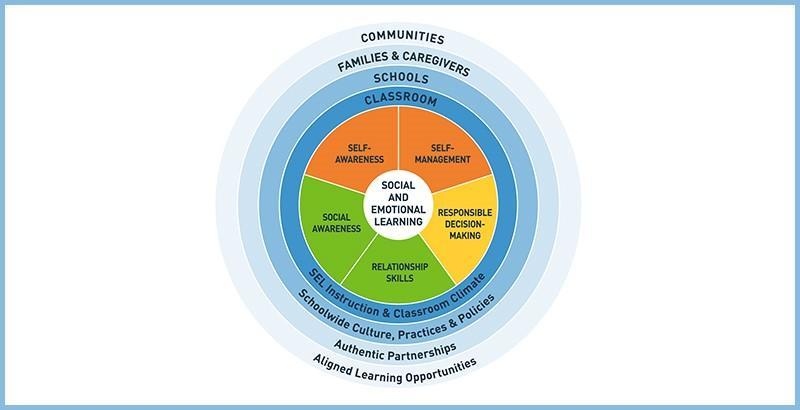 NTxCA showcases the five components of SEL from the Collaborative for Academic, Social, and Emotional Learning (CASEL):
Self-Management

Self-Awareness

Social Awareness

Relationship Skills

Decision Making
The goal of our SEL program is equip staff and students with tools to stay emotionally, physically and socially healthy by helping them manage tension and stress, resolve conflict in productive ways, and create meaningful relationships that foster the most positive learning environment possible.
Each school day starts with an intentional focus on our weekly character trait and an SEL lesson based on "Second Steps," an award-winning curriculum that helps build our staff members' and students' emotional intelligence. We wrap up the school day with a reflection on our SEL focus.
A committee of teachers and administrators spent 6 months exploring numerous SEL platforms and options to ensure the successful implementation of our SEL program. Every staff member was trained by a committee member to guarantee unity in our approach and in our presentation across every campus and in every classroom. SEL committee members provide continuous support for all staff and students. Through our intentional commitment to SEL in a character-based learning environment, we are staying true to our fundamental belief that we must #LOVEfirstTEACHsecond.
Diversity, Equity, and Inclusion (DEI)

North Texas Collegiate Academy will provide educational equity so all children receive the education and services they deserve, empowering them to excel academically, socially, and emotionally regardless of socioeconomic status, ethnicity, race, or gender. Additionally, we seek to sustain positive school culture through teaching models and instructional practices that honor our cultural diversity.
We intentionally and relentlessly work to ensure that all NTxCA students experience equal access to high-quality instruction, social and emotional learning, nutritional meals at no cost, extra-curricular activities, and a personalized learning approach that meets their individual needs.
Although surveys show high levels of parent, student, and staff satisfaction with our programs and efforts thus far, our equity work is not yet finished. We continuously seek to eliminate performance gaps in all subgroups, to increase ways to support and embrace our cultural diversity, to increase participation in parent and family engagement activities, and to eliminate equity gaps that may manifest in any part of our program.
Parent Testimonials
Our son attends NTxCA and we are very pleased with the education they have provided to him as well as the attention and love that the teachers, the principal, and the staff offers. We like the way they keep us informed about everything and help us with services that are important to our family. They keep the students safe by knowing every child's name and by knowing us personally as parents. We appreciate the school. --Jesus and Patricia B. 5-4-20
My son has attended NTxCA for the past 3 years. I'm very fond of the small class sizes and the teachers' ability to give my son undivided attention. My son's grades have improved at NTxCA. He is doing well in all subjects and his confidence is much higher now. I offer huge thanks to everyone at the school for loving my son. –Norma A. 4-26-20
With all the unexpected changes this year due to COVID-19, I saw again how special this school really is. The staff has gone above and beyond to continue to teach the kids. They even call just to ask if we need anything. I'm sure the behind-the-scenes work was crazy, but it was all done with positivity and love.—Shelby D. 5-7-20
My son has learned more than I imagined he could in just his first 2 years at NTxCA (Pre-K and Kinder). We love the structure of the school, things like weekly character traits and the support from the principal are exactly what we envisioned when we chose NTxCA.—Juli G. 5-7-20
I have nothing but good things to say about this school. They truly care about the kids and their families. The staff is amazing and I cannot thank them enough. I have seen a change in my son when they began to work with him and they never give up! I'm so blessed to have found this school and honored to be able to have my children attend there. –Joy S. 5-7-20
I love how everyone there seem to always be involved and actually show they care for the kids. My kids love it at NTxCA and they show it with the excitement they have just to go to school! You are all wonderful and I couldn't be happier that I chose this school. --Lori H 5-6-20
We love North Texas Collegiate Academy! I've always thought the staff was caring and supportive but since the Coronavirus shut down, they have gone above and beyond. The teachers have been so helpful and encouraging as we try to have school at home. All the staff have really helped make this difficult transition easier to manage. --Becky C 5-6-20
I love this school! I love the attention the students get from the teachers and staff. I have great communication with my children's teachers as well as the administrators. I love the fact that the staff are responsible and take good care of the students; the principal pays close attention and is involved in the classes every day. –Heidi F. 5-7-20
I've been with this school for five years and my children have learned so much. I love that the school focuses on strong academics and character education. I recommend this school to anyone! My children are treated with great love and care. –Paola D. 5-7-20
This school has shown great respect towards our religious beliefs; they love and respect my family. We appreciate how they respond to our questions and concerns and have genuine care for our children. –Diana L. 5-5-20
Every teacher at NTxCA is helpful and loves their job! My daughter had such an amazing experience during her first year at the school that she looks forward to going again next year! –Brigette M 5-6-20
I was a student at NTxCA from 2002-2008 and now my own children attend. I won't consider putting them in any other school because no other school will love and serve them like NTxCA will. Ashley B. 5-13-20
Staff Testimonials
I have always known that teaching is my divine calling and working at NTxCA has solidified that belief. The staff at NTXCA works together like a family to provide services and care to not only the student, but to their families as well. Working for NTXCA has stretched me in so many ways and has made me a better teacher. –Janae Robinson, 6-8-20
I like working at NTxCA because I feel like I am able to make a difference in the lives of my students, both academically and personally. I think what makes NTxCA special is that the overall well-being of the students is important, not just their academic achievements. All progresses that students make, academically and socially, are celebrated. I am proud to be a part of NTxCA because I love knowing that I can really get to know my students and their families and that I can really make a positive impact on my students.—Christina Bynum 6-9-20
I love teaching at NTxCA because of the caring and supportive culture. The school's small size allows us to get to know teachers and students in other grade levels and to form bonds that are conducive to our students' academic, social, and emotional development. My co-workers and administrators strongly support me in creating the best outcomes for my students. –Dana Tucker 6-10-20
I love working at NTxCA because we are a small school district with BIG growth always in mind. We have a dedicated administration and staff that focuses on our students' academic needs, well-being, and their community. We are a family and I am proud to be a part of it! --Mae Gonzalez 6-10-20