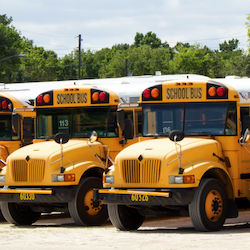 North Texas Collegiate Academy proudly offers bus service at each of our campus locations.
All students riding the bus are expected to adhere to NTxCA's bus safety guidelines.
Seating arrangements will be made by household. All members of each household will be seated together.
Please note: For safety reasons, bus routes/times will not be posted publicly. If you need specific bus route information (i.e. stops and times), please call your campus.
East (Little Elm): 972-292-3562
North (Denton): 940-383-1972
South (Lewisville): 972-221-3564
Please review the NTxCA Transportation Policy & Procedures Handbook, then click the link below to complete the Application for School Transportation.