North Texas Collegiate Academy is committed to the safety and security of all students, staff, and visitors. A comprehensive Emergency Operations Plan (EOP) has been developed to address the four phases of emergency management: prevention, preparedness, response, and recovery. Various drills such as fire drills, severe weather drills, and intruder drills are examples of measures taken by campuses to prepare students for an emergency. Additionally, North Texas Collegiate Academy cooperates with local and regional emergency agencies to address issues related to incident management.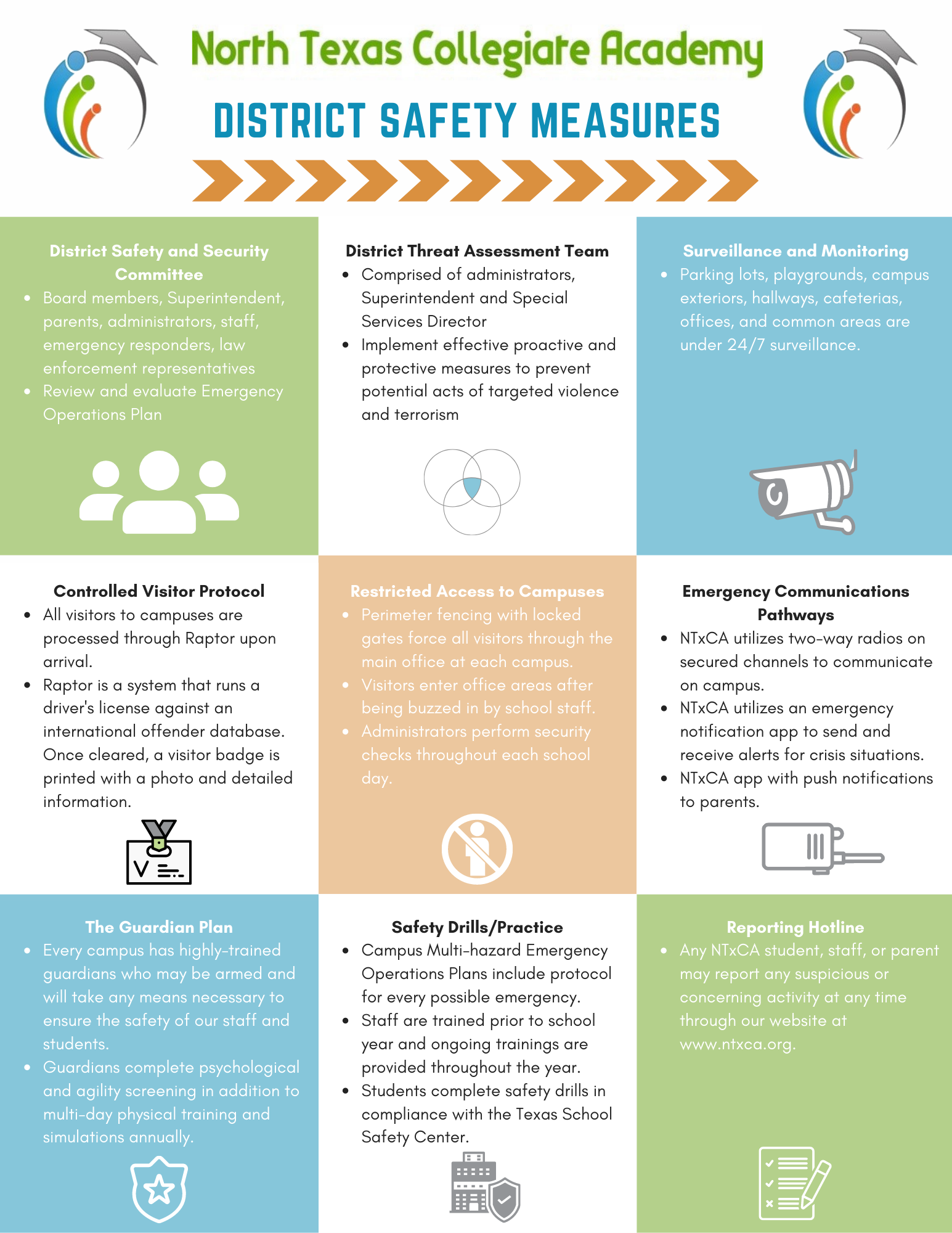 𝐍𝐨𝐫𝐭𝐡 𝐓𝐞𝐱𝐚𝐬 𝐂𝐨𝐥𝐥𝐞𝐠𝐢𝐚𝐭𝐞 𝐀𝐜𝐚𝐝𝐞𝐦𝐲 𝐩𝐫𝐨𝐮𝐝𝐥𝐲 𝐚𝐧𝐧𝐨𝐮𝐧𝐜𝐞𝐬 𝟏𝐬𝐭 𝐓𝐞𝐱𝐚𝐬 𝐬𝐜𝐡𝐨𝐨𝐥 𝐩𝐚𝐫𝐭𝐧𝐞𝐫𝐬𝐡𝐢𝐩 𝐰𝐢𝐭𝐡 SafeDefend 𝐟𝐨𝐫 𝐚𝐜𝐭𝐢𝐯𝐞 𝐬𝐡𝐨𝐨𝐭𝐞𝐫 𝐫𝐞𝐬𝐩𝐨𝐧𝐬𝐞 𝐬𝐲𝐬𝐭𝐞𝐦𝐬.
PRESS RELEASE
March 23, 2023
As the need for heightened school-safety measures becomes more apparent, North Texas Collegiate Academy is proud to be the first school system in Texas to adopt the "SafeDefend Active Shooter Response System."
The system is the most comprehensive solution available as it provides training on identification, intervention, and prevention of a violent crisis event as well as utilizing multiple ways of communication and response in the event a crisis. Each classroom and large common spaces within all buildings throughout the district will be equipped with a safety box and an activation module.
The system provides instant notification in multiple ways in cases of an active shooter or life-threatening crisis. Once a staff member activates the device, an instant notification is sent to dispatch and any law enforcement officers programmed in the system, along with a text message, email and voice alert over the PA to staff within that building, and administration across the district. The notification will put a building on lockdown immediately. The system identifies the exact GPS location of the crisis down to the specific room where the system was activated. Staff members are immediately notified of the location of the crisis through text and email, a 911 call is placed, and a voice alert will notify building occupants.
Not only will the SafeDefend Active Shooter Response System provide a quicker response time for law enforcement, but it will also instantly notify the school's highly-trained armed Guardians who stand ready to defend students and staff in the event of an active shooter situation. "Of course, when law enforcement arrives on the scene, they are in charge. But in the critical first seconds of an incident, it's imperative that our Guardians take action. In a crisis like this, seconds matter," said Superintendent Dr. Lisa Stanley. "This system will show our Guardians the exact location of the shooter, allowing us to lockdown and/or evacuate students and staff away from incident point and enable Guardians to take action immediately."
SafeDefend will also provide staff with the tools and training to survive an active shooter event by supporting Stop-the-Bleed training, trauma-informed first aid guidance and supplies needed to provide emergency care until help arrives. SafeDefend has been installed in over 300 schools in 11 states and their team has trained over 20,000 teachers and staff in the best practices for crisis management and active shooter response. North Texas Collegiate Academy is proud to be the first school system in Texas to implement this program. Brandon Neeley, Director of School Improvement at NTxCA believes "SafeDefend gives us another layer of defense and preparedness in the event of an intruder. It will guide first responders and school Guardians to the scene of any potential danger to our students and staff, allowing us to take action more quickly."
For more information about this system, please contact Jeff Green, President by email at Jeff@safedefend.com. For more information about North Texas Collegiate Academy and the school's full range of safety and security protocol, please contact Dr. Lisa Stanley, Superintendent by email at lisa.stanley@ntxca.org or by phone at (940) 383-6655.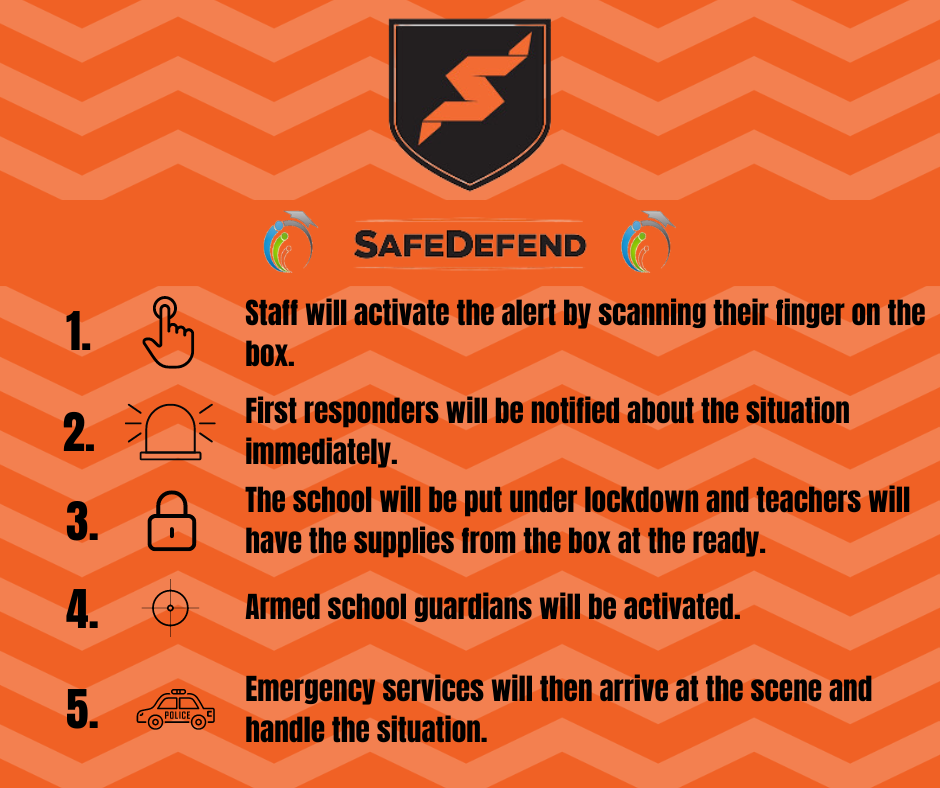 The safety of our students and staff is paramount at NTxCA. In addition to the installation of ballistic film on all glass entry doors and windows, locked entrances, perimeter fencing, surveillance cameras and other safety measures, the Board of NTxCA has authorized the Superintendent to implement a Guardian Program in which certain NTxCA staff members may carry firearms on their person on campus and during any school-sponsored event.
Guardians are approved by the Superintendent after completing rigorous annual training that includes psychological screening, marksmanship drills, active shooter and hostage scenarios and ongoing practice and emergency preparedness drills. Guardians are not identified by the public on any campus but are registered as School Safety Officers through the Texas Department of Public Safety.
Our adopted policy is attached for your review. Any questions regarding the Guardian Program can be directed to Mr. Brandon Neeley, Director of School Improvement at brandon.neeley@ntxca.org or by phone at 940-383-6665 x 104.